Atom Finance, an investment platform, is located in Brooklyn. The platform offers a wealth of data, resources and analyses that are useful for both institutional and retail investors. This platform is intended to be an alternative for Bloomberg.
Atom provides users with high-quality information and research at an affordable price. There are two types of accounts available: the basic account is free and the premium account costs $9.99/month. This article will cover both the basic and premium account features.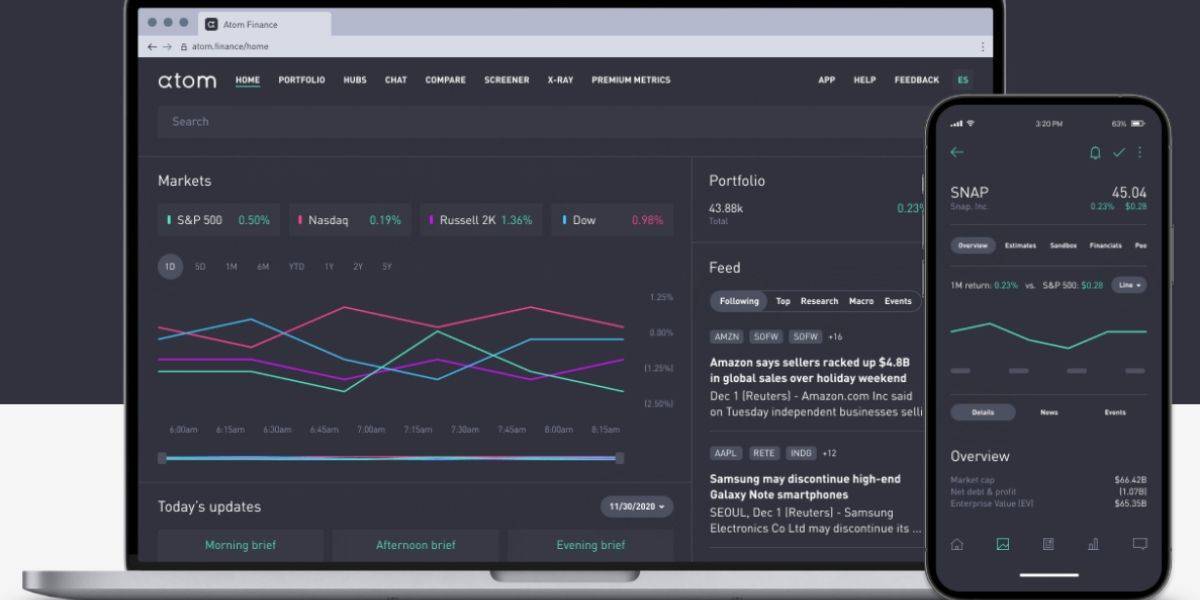 Tom Finance: The Basics
Atom Finance allows you to track all your investments from one location. You can also link to your brokerage accounts. This will allow you to receive all price alerts and market briefings.
You can also link your brokerage accounts to the platform to see returns, trades and holdings. You can also check your portfolio statistics and real-time P&Ls, so you can keep track of the details of your favourite companies.
All traders can access their portfolio data in one place with this feature.
Atom Finance's main objective is to provide a platform that allows users to access high-quality research and other resources. This platform provides detailed information about the company's financial status, valuation metrics and consensus estimates.
You can also find news, events and SEC filings. Transcripts are available to help traders make informed decisions. You can also access detailed stock and market reports. You can also access live price changes and commentary if you have a premium account.
This platform is designed to make it easy to create finance models using the same software. This platform offers a tremendous benefit to those who don't have a good understanding of the markets. Individual investors can also use the platform at no cost.
RECOMMENDED : Investing for Beginners
Top 4 Atom Finance Features

Atom Finance is committed to simplifying user experience and keeping things simple. It has created basic features that provide the most important information for a low price. Let's now look at the different features.
Sand

Do you like financial models? If so, you are the right target audience for this feature. This feature allows you to populate instant finance models using consensus projections.
This feature is so powerful because you can manage the data without having to worry about formulas. This feature eliminates the need to export data. Sandbox can be used to predict or analyze the price based on varying circumstances.
Changes in the market cause the models to change automatically. Sandbox is a time-saving tool that gives you complete control over your investments.
Comparing Companies

This feature allows you analyze the performance and percentage movements of stock prices for two or more companies. This feature does not include tools such as TipRanks, because the data available on this platform is limited.
Visual methods of comparison are not ideal for quickly analyzing data. You cannot transfer a Sandbox watchlist that you have created to this feature. These limitations can discourage users from using the platform.
RECOMMENDED – The Best Index Funds to Invest in
News Feed

This feature allows you to track the impact of your investments. Your feed will automatically display information from the news about companies and industries that you follow. You can also personalize the feed to suit your interests.
Access to Bloomberg and MarketWatch news will be available. Resources have also been provided by Reuters and the internal press. You can verify news using additional resources such as Yahoo Finance, since it is not one the main features.
Brokerage Integration

Atom Finance, a third-party service such as Plaid, allows you to connect and view portfolios with brokers. Plaid combines data from multiple sources to give you access both financial institutions and brokerage firms' customer data.
This option can be activated by selecting the "link to broker" option. Login to Plaid to gain access to all the information you need. You can now track all your investments from one interface.
How do I open an account with Atom Finance?

The app can be downloaded from the respective app stores, or you can sign up online. Signing up is easy and takes only a few minutes. To gain full access to the platform, verify your email.
When you log in, you will see pop-up notifications that provide a summary of all the features you have access to. You can also take a tour of this site.
Is Atom Finance safe?

Investors who are in need of this service can get it for free. You will never lose your money. Plaid, a trusted third-party service ensures that your data is kept safe. It ensures that everything is secure and safe.
Atom Finance takes data security very seriously. You will be informed if any of your data has been shared outside the platform. Any data that is shared will be used in restricted circumstances.
Both the pros and cons

These lists provide a quick way to determine if this resource is right for you. These are the pros:
Simple and free usage Real-time data Available. Finance models available to assist you. Sign up hassle-free
These are the cons
Limited information and data about companies. Service is not always reliable
The bottom line

You will need access to the most current information, regardless of how large the share you are looking to buy. It is not enough to have access to all the information you need.
It allows you to access information from multiple sources on one platform. This makes it great for professional investor research. This app is a great investment as it allows you to access exceptional features while you wait for Atom+.
Review of Atom Finance: Is it worth it? Dollarsanity.
Did you miss our previous article…
https://www.goldcoastmoneyonline.com/20-online-jobs-that-you-can-do-part-time-from-your-home-2022/