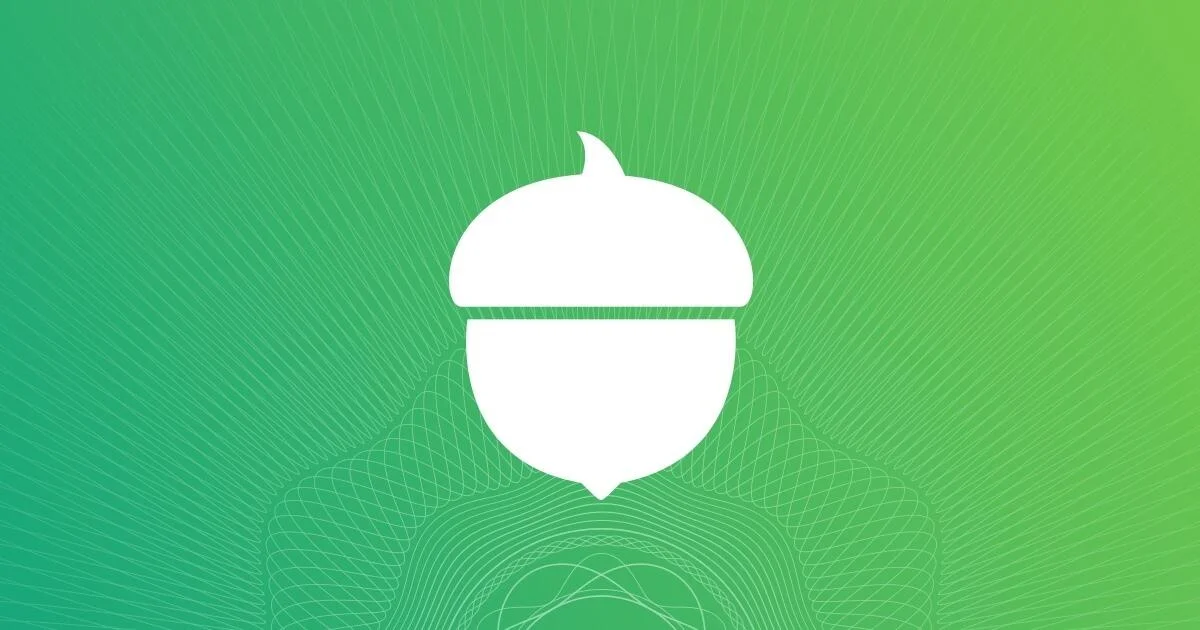 If you use financial management applications, you may have come across Acorns or used it before. This app is one of the pioneer "robo-advisor" portfolio management apps, and it is widely used for personal finance purposes.
If you are thinking of using a personal finance app and you don't want to use Acorns, you will be glad to know that there are many similar apps like Acorns online today.
Before we look at the apps like Acorns, let's quickly review what Acorns is all about.
What Is Acorns?
Acorns is an app linked to the user's bank account. You can deposit money directly into the app, or round up your card purchases to the nearest dollar value to invest small amounts without noticing.
With any money that gets deposited in your Acorns account, the robo-advisor app invests the funds into index funds, stocks, and assets based on your risk preferences.
The idea is that when you first begin to save, you have tiny acorns, and as your savings grow, the acorns will continue to grow until they transform into mighty oaks.
Acorns has two membership tiers: Acorns Personal and Acorns Family.
corns Personal
This is a package for your personal use and comes with a monthly subscription fee of $3 a month. It has three types of accounts:
Acorns Invest: This deals with index funds and taxable contributions.
Acorns Later: This one offers the user tax-sheltered investment options like Individual Retirement Accounts (IRAs).
Acorns Checking: This is basically a bank account and offers withdrawal benefits. With an Acorns checking card, you can withdraw money from thousands of ATMs nationwide.
corns Family
The Acorns Family package is for households. This package costs $5 a month, and it has all the benefits of the Invest, Checking, and Later packages in addition to Acorns Early. With this package, you can open an investment account for your kids and help them start investing at a very young age.
So as you can see, this app can be a useful tool to make investing easy. However, it is not the only one of its kind. You may decide that another app like Acorns is more suitable for your needs.
4 Apps Like Acorns
Here are some other apps like Acorns that serve the same purpose. Let's compare them to Acorns to help you decide which investing app is best for you!
1. Robinhood
Robinhood is regarded as the first commission free app. While Acorns takes $3-$5 a month ($36-$60 a year) depending on the membership, Robinhood is a commission-free app. There are no fees or trading commissions with it. This allows you to invest for free.
When Robinhood took this route, many competitors in the industry (e.g. Fidelity and E-Trade) had to follow suit so as not to lose market share. With this app, you can trade index funds, penny stocks, commission-free stocks, and cryptocurrency with no fees. There is no minimum account balance with Robinhood.
The app is easy to use with user-friendly features and tools to trade fractional shares. Its powerful tools make it an innovative app for beginners who are new to stock investing. However, it is not a robo-advisor, so you'll have to make investments manually.
2. SoFi Invest
Another app like Acorns is SoFi Invest. Placing trades on this app is free. You can invest in ETFs and cryptocurrencies. Another benefit of this app is that you don't have to save so much before you start to make moves in the market.
Many regard it to be very close to Acorns because of how it is designed and works. The opportunity to buy fractional shares in large blue-chip companies has made it a valuable tool for small investors. The minimum investment to start with is $5, and you don't pay any monthly commission or pay a subscription fee.
3. Betterment
Betterment is another very good app like Acorns and is best for automated investing with tax-loss harvesting.
While it is a robo-advisor app like Acorns, you can also use it to trade in S&P 500 funds. One difference between Betterment and Acorns is that, unlike Acorns, you cannot buy individual stocks but only buy fractional bits of ETFs that align with your portfolio preferences.
Betterment charges a management fee of 0.25%. If you intend to invest in large individual assets, this app is not ideal for you. However, if you are looking for a micro-investing platform that can help you diversify with fractional index ETFs, then it is best.
By regularly contributing small amounts to your account, you can start investing early and often. Another benefit is that you can use their tax-loss feature to reduce your tax liabilities.
4. Public
Public is one of the newer apps like Acorns offering zero-commission micro-investing features. The app is designed to cater to the needs of Gen-Zers who are active on social media. While Acorns is not free, Public is, so the user does not have to pay to use it. Rather, they make money from their special tipping system.
With Public, the user can learn the art of trading on a small scale before scaling up their investment. Public provides access to the ETF market as well as fractional shares. The app has all the features similar to that of Acorns, just without the monthly fee.
Final Thoughts: Apps Like Acorns
These apps like Acorns are easy to use and have user-friendly features. However, before you choose any financial product, you need to research their tools as well as their advantages and disadvantages.
Bear in mind that it may take you a while to understand all the features, but you will learn them as you use the service. One of these apps like Acorns could be just what you need to take your personal finance strategies to the next level!
4 Apps like Acorns: Our Top Picks Dollarsanity.
Did you miss our previous article…
https://www.goldcoastmoneyonline.com/7-places-you-can-instantly-sell-amazon-gift-card-online/