You can save $5,000 even if you have a lower income in six months.
Yes, it's possible.
Here's how!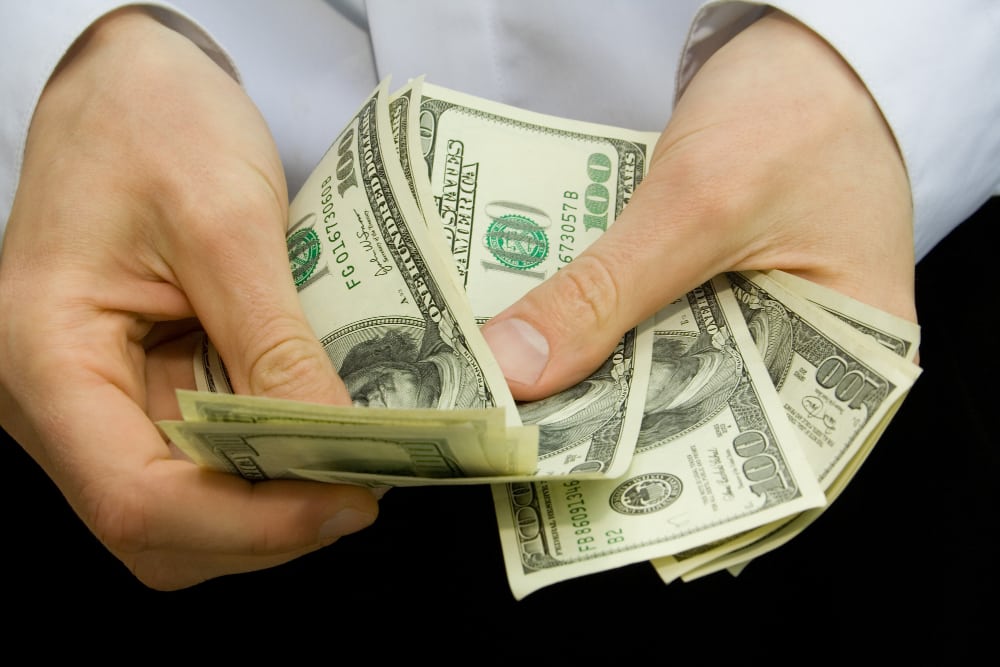 Are you able to access an emergency fund?
Would you be able cover $1000, $2500, or $5000 in an emergency such as car repairs or medical expenses?
8 Steps to Quickly Save $5,000

The economic turmoil and hardships of the past year have taught us that it is important to be mindful of your money and have emergency savings.
You may want to save more money for an unexpected expense or a rainy day. However, you might be curious if it is possible to save $1000 or $2500 in six months, even $5,000 if you have a tight budget.
Yes! There are many small ways to save money, even if your family income isn't very high. These are six tips to help you save $5,000 on your budget in six months.
Even small amounts can really add up

Although saving $5,000 might seem daunting, it is possible when you break it into smaller parts.
This is how you can make this number more achievable even with a smaller income.
You will need to save $833 per month, or $27.40 each day, in order to save $5,000 over six months.
It is less expensive than most meals at a restaurant.
This is only $6.85 per person for a family with four members.
This amount can be cut or you can find other ways to make extra income that doesn't change your family's lifestyle.
Here are some ways to get started with your savings journey.
Re-examine and Renegotiate your Bills

Have you ever reviewed your bills in order to determine if there were any changes that could be made or a reduction in the amount you pay?
You should also examine your insurance policies, your cell phone plan and other expenses.
Look online to see if there is a cheaper alternative and if you and your family would be better off switching providers.
Are you able to save money by switching carriers, refinancing or reviewing your services?
We were able to cut $68 per month by switching our phone plan and add two lines for the children.
A monthly service that was $37 per month, we were able to reduce by finding a cheaper alternative.
This is $444 per year that we can keep without missing anything!
Do you not want to change providers?
Contact customer service and let them know that you are considering cancelling. They will then be able to offer you a better plan or rate.
You might be amazed at how much you can save by simply calling. Are you unsure where to start reviewing your bills and negotiating? There is an app that can help you do this! Trim helps you cancel unneeded subscriptions, negotiate your bills and much more. Learn more by clicking here

Reduce Costs on Groceries & Household Essentials

Are you aware of how much your family spends on food and the daily necessities?
It can be costly to purchase daily necessities for your family like shampoo, razors, and toilet paper.
These costs can be quite shocking if you have never kept track of them. These are just a few of the easy ways you can save money on your expenses.
There are many ways to save money on groceries. Food costs are often the largest expense of a family, after rent and mortgage. It is possible to cut down on the cost of food for your family by as much as 20%, 30%, or more with just a bit of planning. Coupons and money-saving apps for grocery shopping can help you save big and they're easy to use. Many coupons can be found online and you can save money if you own a smartphone.
A common misconception is that coupons are for processed, unhealthy products.
This is completely false!
Even if you live a healthy lifestyle, there are apps and coupons that can help you cut down on grocery costs.
Last week, I was able save more than 70% on groceries, including turkey breasts, vegetables, fruits, milk, and cereal.
I bought many items that my family loved, but I didn't pay full-price. I was able save money to put towards our emergency fund.
This healthy grocery budget list will help you plan your shopping list.
Make sure you have a stash. A stockpile is not a place to hoard food or non-perishable goods. This is simply keeping a small and practical supply of the products that you bought at the lowest price. It saves you money, eliminates trips to the shop, and allows you to keep items close at hand for any emergency. It has been a great help in times of product shortages and helped us to survive many unexpected job losses. Stockpiling items is not only important, but it also helps me to stock up on great deals. For $1, I bought razor gift packs during holiday clearance. We got a year's supply for less than the price of a regular priced package. Why should they be packaged in holiday packaging when you can save money on household supplies. Would you rather save hundreds on daily household items that your family uses? If you don't shop smart, the daily items your family uses can quickly add up to large expenses. I can get many products, such as shampoo, soap, laundry detergent, vitamins, and body wash for pennies per dollar or even free by couponing and using apps like Target Circle, Ibotta, and Checkout 51. It is important to keep an eye out for sales and stock up on non-perishable products so you can save money and not have to pay full price.
Reduce Unnecessary Costs

Did you know that a daily cup of coffee can cost you up to $1200 per year?
You can learn how to make a high-quality cup at home, and then take it with your in a travel mug.
Grab lunch on the run? You could spend $1000 on a lunch out each year. You could spend thousands more a year ordering takeout or dining out.
You don't have to give up on yourself, but cutting out the majority of family dining out can help you save big and live a healthier life.
We have found many recipes that can be copied from restaurant menus. Here's how to make your Starbucks coffee more affordable.
We can enjoy our favourite meals while saving money.
Find out how to get rid of waste

Did you know that an average family of four throws away over $1500 each year on food they don't use?
This waste can add up to a lot!
It is possible to find major savings by looking at the way your family uses food and other products.
Only buy what you really need. This may sound obvious, but the truth is that American portion sizes are much larger than in other parts of the world. Our tendency to cook more than we need often results in a lot of leftovers that don't get eaten or are thrown away. You won't believe how much food I cut down on for each meal. I stop making extra sides, bread, and large main dishes. Instead, I try to prepare what is most likely to be eaten. It leaves little leftovers at the end of the meal and makes it much easier to reuse them. Don't let leftovers spoil in the refrigerator or go to the trash. Instead, think of creative ways to make them useful. Can the leftover salad veggies be frozen so they can be used in a soup or casserole recipe? Is it possible to make another meal with leftover chicken breast by adding noodles and other vegetables? I love to cut up fruit and freeze it before it goes bad. These make great smoothies.
These 20 Dirt Cheap Meals are below $5
Side gigs available

Even if you have tried every way to save money, is there a small way you can make a little extra income to help meet your savings goals.
Absolutely!
Side gigs can help you earn $100 more per day to save money or pay unexpected bills.
Are you looking for ways to make extra money while working full-time? You can make extra money in an hour or less per day by doing a variety of side hustles.
There are many ways to make extra money online. You can drive an hour for DoorDash and Instacart in the evening, or sell items online.
Sell More Stuff

Are you tired of furniture collecting dust in your attic or basement? Do you still have clothes and toys that your kids have outgrown? Clear out the clutter and make extra money by getting rid of items you don't need.
Selling items online and at consignment shops earns me an average of $100 per month. It's a great way for me to make extra money, and it also allows me to save some income for the things I need.
My tween sold his outgrown toys and books, and made $200 by cleaning out his room.
He not only made extra money to purchase a desired item, but he also got me a clean space which was a double win.
Apps to Invest and Get Cash Back

Are you making the most of the money your family makes every day? There are many apps that will help you save money at the grocery store. You can also use these apps to make money every day by helping you do the things that you love.
Although they might only make a small difference in dollars or cents, the total savings can add up. These are just a few of the many you can try.
Invest with Acorns. Have you ever wished that you could invest in stock market if your cash was more? Acorns is an app that helps you save money by rounding up your purchases. Get Cashback When Shopping Online. You may already receive cashback from your credit card but did you know you can also get cashback from other money-saving apps? Rakuten is my personal favorite. Rakuten, also known as Ebates is a way to earn cashback from online shopping. Sign up to receive $10 off your first order and a 10% discount on all subsequent purchases.
It is possible to save $5000 within six months if you're looking for ways. You can save money quickly by setting a goal and being more aware of your spending habits. How can your family save money?
How to save $5,000 in 6 months with a lower income dollar.
Did you miss our previous article…
https://www.goldcoastmoneyonline.com/5-ways-to-get-paid-to-attend-college-and-school/