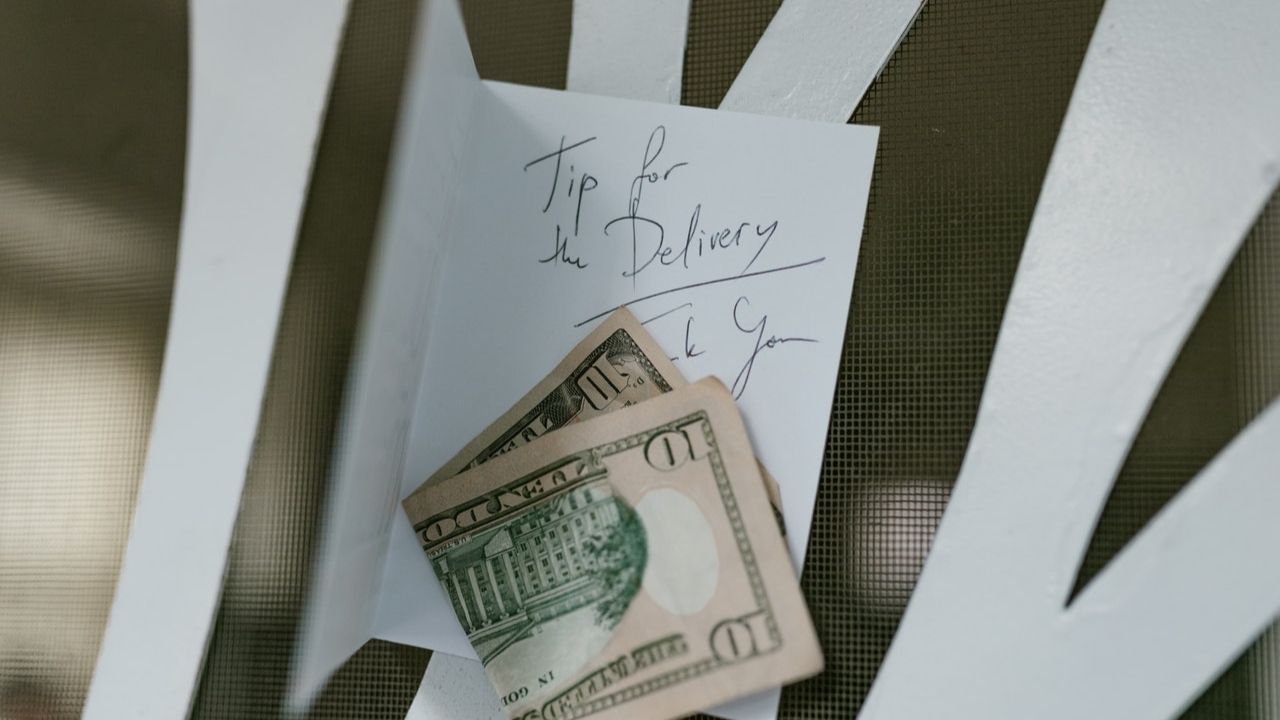 Most people know how much tip to give when dining out at restaurants (20% average). Many people now order takeout and delivery rather than dining out. It might not be clear how much you tip DoorDash drivers.
Are the delivery and service fees you pay for when you order through the app paid to the driver or do you have to pay them?
How do you make sure you receive a hot meal in a timely manner?
Here's how much you can tip DoorDash drivers.
DoorDash Drivers: Who are they?

DoorDash's delivery person is usually someone looking for extra income.
They don't work for a salary and drive their own cars and fuel to deliver your food. DoorDash does not guarantee hours, pay or benefits. DoorDash allows anyone to deliver as long as they own a vehicle and have completed the basic application.
RELATED POST : When does DoorDash stop delivering?
How are DoorDash drivers paid?

DoorDash has a very specific formula to pay its drivers.
DoorDash charges a service fee and a delivery fee when you order delivery. They also suggest you tip.
Although the driver receives a portion of the service charge and delivery fee, the tip goes to the person who brought you the food.
DoorDash will pay drivers more if they travel further. This encourages the driver to accept your order and bring it back to you.
But, if the tip is not enough, the incentive might not be enough to get the driver to take the order. Here is where tips come into play.
Why should I tip DoorDash?

What does this all mean? DoorDash already pays the driver so why should you tip?
If you are self-interested, the answer to this question is simple: If you don't tip you might not get someone to take your order.
DoorDash prompts drivers when they deliver. The screen shows them how far they have to drive, their base price for the order, and how much tip they have left.
DoorDash will not accept orders if they are required to drive 10 miles for delivery. They also have to tip $3. It is possible that multiple "Dashers", who are not paid tips, have delayed your DoorDash delivery.
DoorDash drivers aren't necessarily the richest people in the world. They also don't receive any benefits. It's a great idea to support those who bring you food and have an entrepreneurial spirit.
How much to tip a DoorDash delivery driver?

DoorDash offers a suggestion tip for customers who are checking out.
DoorDash's tip suggests the distance the driver must travel, how busy it is at night, and the number available drivers.
The industry standard for dining out at restaurants is 20%, but DoorDash suggests a tip that may be higher than this.
Personaly, I tip 20% of the total, $5 minimum.
DoorDash drivers won't be able to see you if you tip less than $5.
I recommend tipping in cash if you have only $3 to tip and the money is not available.
If you are unsure how much to tip DoorDash drivers for, use the minimum amount.
Tipping less than the suggested amount will cause delivery to take longer as multiple people could be delivering your food.
You can also tip more quickly if you're in a rush. This will ensure that the driver who receives your order is prompt to accept it and deliver it as soon as possible.
Although gig apps like DoorDash and Postmates don't have a standard delivery tip percentage, many of these apps suggest a tip amount.
It is always smart to follow the established algorithm. However, it's also a good idea to tip more than the suggested amount. This will ensure faster and more efficient service.
You would rather work for DoorDash than just ordering. Learn more about apps like DoorDash in our article
How much to tip DoorDash drivers? Dollarsanity.
Did you miss our previous article…
https://www.goldcoastmoneyonline.com/5-easy-ways-to-make-more-money-over-the-easter-break/