Anyone who wants to pay bills efficiently, save money and reduce debt can benefit from budgeting.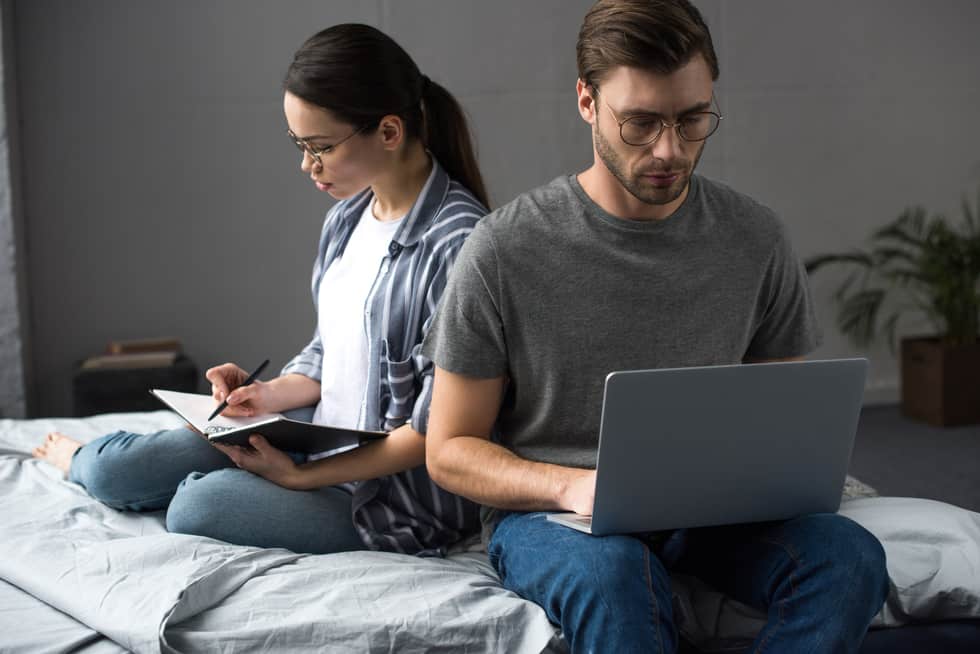 What is a Budget?

A budget is a detailed plan that shows where your money goes. The budget begins with an analysis of your income and expenses. Fixed expenses (the same month after month) or variable expenses (variable from month to month).
Variable expenses are those that you need to budget for. This means that you're estimating how much you will spend on them.
You can budget for your electric bills, for example. 60 dollars per month are set aside for your electric bill. It might be $52.67 or $59.23, depending on the month. It should not exceed $60
Your budget can be adjusted depending on the month and anticipated usage. In the summer, for example, the household will have a higher electric bill (air conditioner) than a lower bill (heat), but the prices change in the winter when we use more heat. We still have to pay the bill.
You can budget for some items, but others are easier to spend. You can budget $50 per week for groceries. Sometimes you may go beyond $50. It's usually for a desire rather than a necessity. Budgeting is a matter of self-control.
A budget should have a higher income and lower expenses. This allows you to save money or pay down your debt.
Budgeting is a good idea.

Budgeting can be a great way to save money. We can feel more responsible by planning for every penny of income, and keeping track of where each cent goes.
We may not have enough money to cover our monthly expenses if we plan every penny. Therefore, we are responsible for monitoring those funds. It also helps us to identify trends and habits that could be costing our money.
What is the best way to budget?

Budgeting is an important practice, no matter your situation. There are many ways to budget, and you can use thousands of platforms. Some prefer to budget electronically.
Excel and Google Spreadsheets can be used to track your data, but you also have the option of using online platforms. Mint is a popular tool for personal budgeting. Wave and Quicken are excellent for business budgeting. However, it is important to write down a budget on paper.
You can handwrite your budget for several reasons. You create a kinesthetic link to your budget which increases your sense of responsibility and connectedness.
You can also modify it as needed. Let's suppose that your income has changed by a penny. It's easy to account for this on a piece of paper.
These are the best printable budget planners, templates and worksheets.

Let's take a look at the top free budget worksheets.
For college students, a printable budget worksheet

It is hard to budget as a college student. Two college students and one graduate are my two. It's a first attempt at adulthood, despite the fact that there are many variables.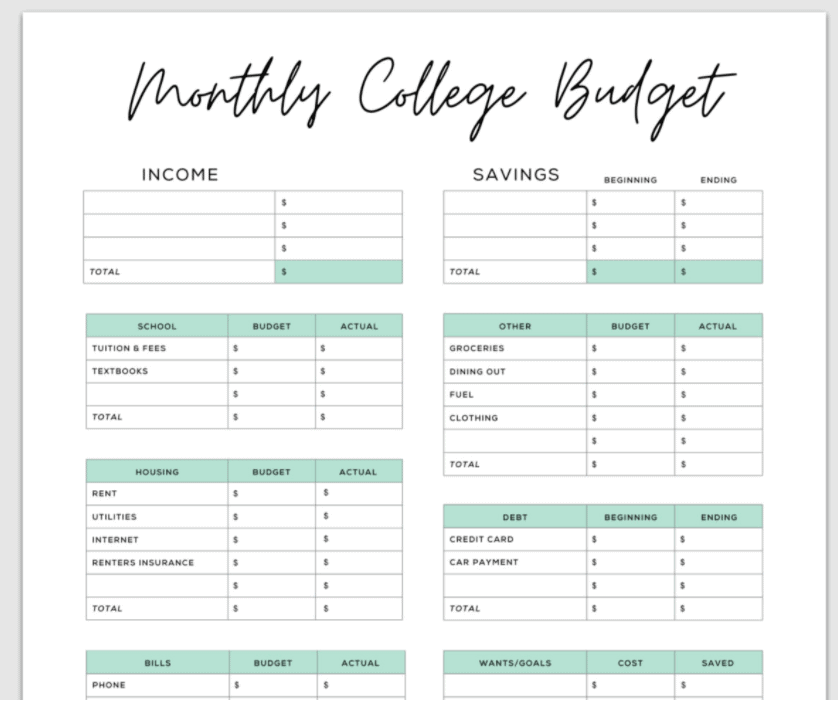 College Life Made Simple has a great printable that college students will love. The sample includes college components such as textbooks, tuition, adulting reminders (renter's insurance, car payments), and realistic elements like dining out, wants.
You can also find other printables for college students.
RELATED POST 7 Ways College Students Can Save Money
Professionals get a free budget template

Professionals are busy people with little spare time. Professionals need a budget plan that is clear and concise with all the necessary information.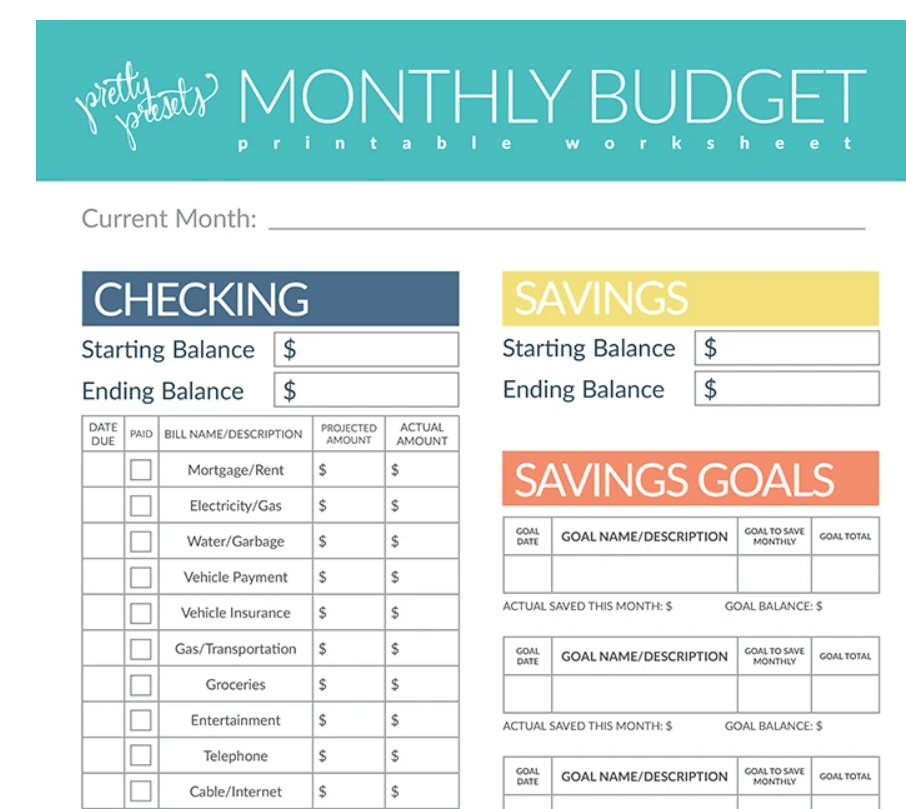 Pretty Presets & Actions offers a simple (but still adorable) budget printable. It includes savings and checking, as well as goals for savings. It is simple, easy to understand, and includes everything you need right there on the page.
When you click to download, you will be taken to a somewhat intimidating page. Don't panic. It's still completely free.
You can also find additional printables.
Parents can download a budget worksheet

There are many expenses parents have to consider. You should include expenses such as childcare and diapers in your monthly budget. However, it is a good idea to save money for college or savings accounts.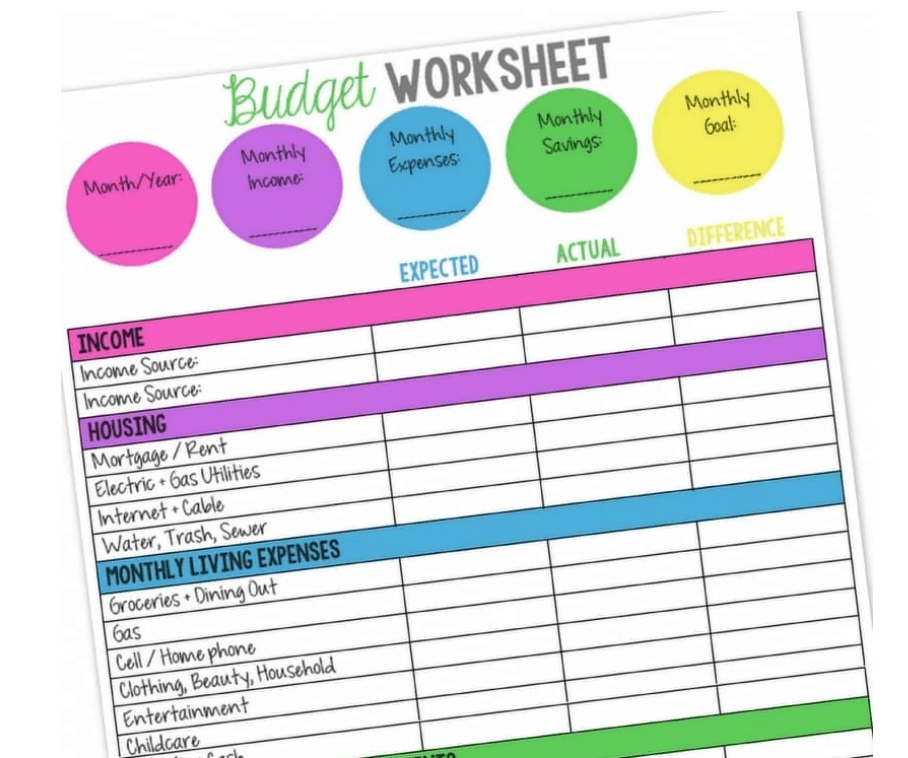 The perfect printable for budget-conscious parents is A Mom's Take It contains pre-filled areas parents should consider.
This is a great tool for budgeting beginners, as it includes the three categories that early-budgeters require: actual, expected, and difference.
It can be difficult to put together a budget. This printable will help you avoid making mistakes.
You can also find other budget printables on their website.
Template for budget printing free of charge for fixed income retirees/fixed-income earners

You will have the same income each month whether you are in retirement or on a set income. This amount must be budgeted so that your variable expenses are lower.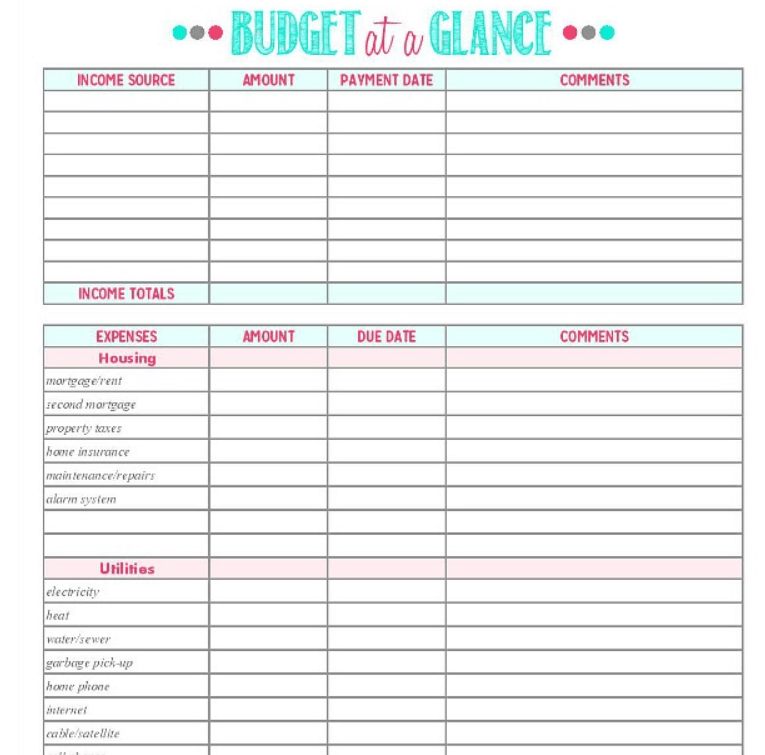 Clean and Scentsible offers great options for people on a fixed income. While some of these options have variable income or expenses, this clear example shows steady income sources and doesn't require variety. This is not necessary when someone has a more specific budget.
You have many other options for budget printables than this one.
Best printable budget planners for beginners

Bobbi Printables has no nonsense. Print the guide and you're good to go. It is simple to use.
Microsoft Office offers Excel budgets that can be printed. These budgets are very useful because they calculate automatically, but do not include the handwritten elements that are important.
What should I do?

Budgeting takes time. As circumstances change, preferences change. Print several copies and test them all.
Whatever format of budgeting is chosen, the most important acknowledgment is that you are making progress towards budgeting.
Five Cute Budget Templates for Organizing Your Finances in 2022 Dollarsanity.
Did you miss our previous article…
https://www.goldcoastmoneyonline.com/10-jobs-that-pay-20-per-hour-in-2022-without-a-degree/