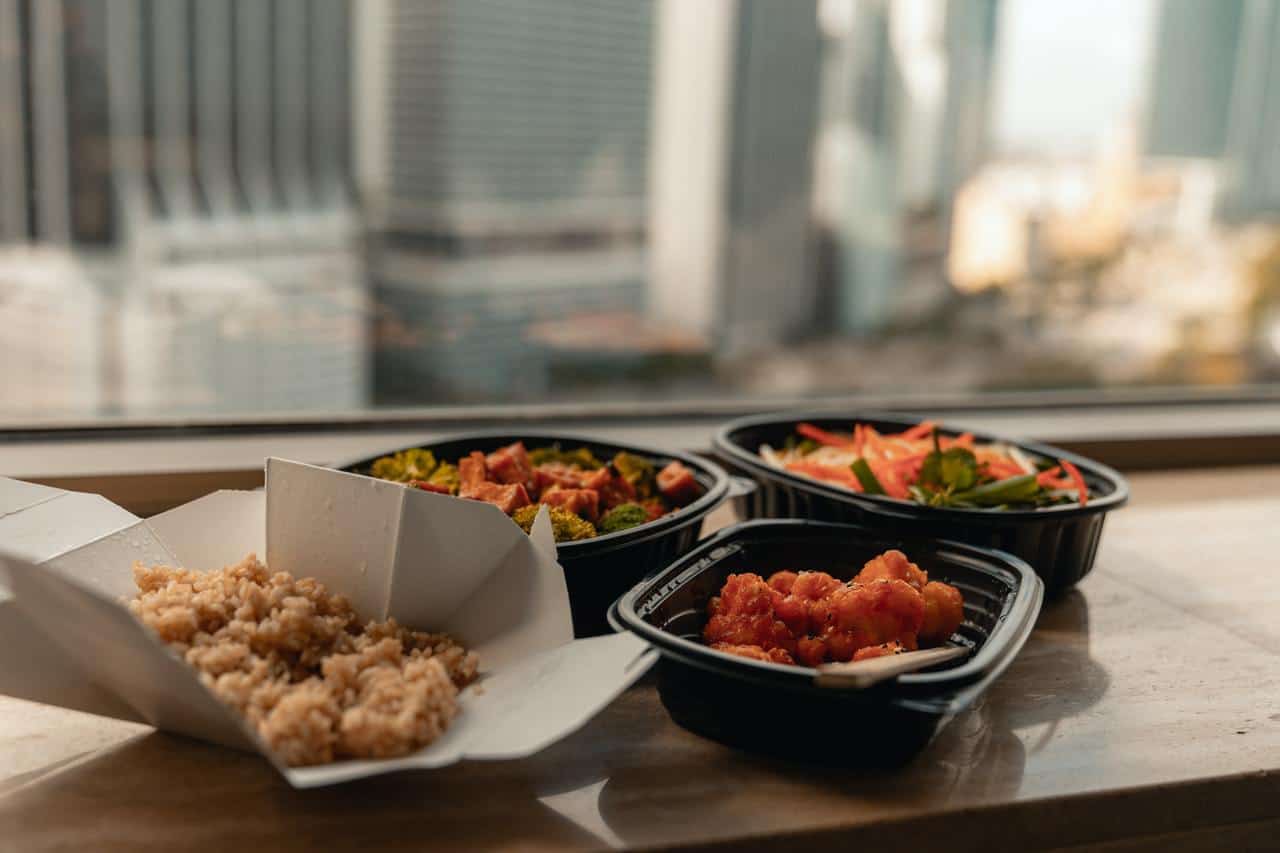 With these apps, such as DoorDash, it's easier than ever to get a side job.
You might be able to increase your income through working as an independent contractor or driving for food delivery apps.
You may be able help others with your car and smartphone by delivering food or other items. And you could make good money doing this!
Delivery apps are a great way to make more money while you're at work. They allow part-time workers to choose the hours they want and how much work they do.
These top delivery apps, such as DoorDash, pay both drivers and shoppers. You can find out which ones are available near you!
What is DoorDash?

Let's begin by looking at DoorDash to get an idea of our baseline.
DoorDash is a well-known delivery company that hires Dashers (drivers who deliver meals from restaurants to customers at their homes, workplaces, or on the move).
Each meal is unique and DoorDash can help you make money by helping you find gigs and complete tasks.
Dashers are a great side hustle that can help you earn extra money and help others.
DoorDash offers variety and high earning potential. It is currently available in more than 4000 cities across the 50 states as well as Washington D.C. and Puerto Rico. There are plans to expand into Canada.
Drivers get paid per DoorDash delivery. Many Dashers earn tips that increase their earnings.
Do you want to know what DoorDash requirements are?
The minimum age for dashers is 18 years, a valid driver's licence, and valid insurance.
You must also have a good driving record.
Although most Dashers deliver orders by car or another vehicle, there may be opportunities in some cities to deliver your order by bicycle, scooter, or walking.
Register now to get started delivering DoorDash products.
The 10 Best DoorDash Alternatives for Making Money

DoorDash isn't the only way to make money as an independent driver. Below are the top DoorDash alternatives.
Instacart

Instacart has two ways to make money: In-store grocery shopping gigs or delivery jobs.
Instacart full-service shoppers can shop for orders and deliver.
Instacart's In-store shoppers, on the other hand, pick up orders from retailers and prepare them for pickup.
Instacart delivers groceries, gourmet shops, and local stores directly to customers.
The type of shops and delivery required will depend on where you live. Your area may also have a different average income.
You must be at least 18 years old to become an Instacart shopper.
You will need a reliable vehicle, at least two years driving experience and a minimum of 2 years to be able to shop for full-service positions.
For Instacart full-service and in-store sales positions, you will need a smartphone and the ability of lifting 30-40 pounds.
Read Doordash vs Instacart: Which one is better for drivers?
GrubHub

Grubhub is one of the longest-running delivery services. Since 2004, Grubhub delivers take-out directly to customers.
GrubHub drivers can enjoy a flexible work schedule and competitive pay. They also get 100% of the tips they earn on deliveries.
GrubHub drivers must be at least 19 years old and possess a valid driver's license with insurance.
You will need to have access to a vehicle, but food can still be delivered on foot, by scooter, bike, or motorcycle in certain markets.
Drivers must have a valid driver's license, a smartphone, and a checking account to deposit direct deposits.
In recent years, Seamless, a delivery service, has merged into GrubHub. Visit the GrubHub driver information webpage to learn how you can drive for Seamless.
Uber Eats

Uber Eats is a spin-off from Uber, the popular ride-sharing app. It offers the chance to make money and deliver food on a schedule that suits you.
Uber Eats, a popular take-out delivery service that is available nationwide in the United States and worldwide, is now available. Uber Eats is constantly looking for drivers to meet high demand.
Uber Eats requires that you are at least 19 years old and possess a vehicle with a minimum of a 2000 year model.
Depending on where you live, there may be delivery jobs by bike, scooter or other transport. You must also be able to pass a background screening.
Are you an Uber driver? Uber Eats is a great way for you to make extra cash between gigs if you're an Uber rideshare driver. Uber drivers often combine both jobs to make the most of their earnings.
Uber Eats is a great side-hustle if you need to make quick cash. Uber Eats even allows you to withdraw your earnings multiple times per day.
READ: Uber Eats How to Make $1000 per Week
Postmates

Editor's note: Uber has acquired Postmates.
Postmates allows drivers to deliver more than takeout. Postmates allows customers to order groceries and adult beverages from local restaurants.
Postmates delivers in many major US cities, including New York City, Chicago, Los Angeles and Seattle.
There are many options available which can lead to many orders that you can accept and make money.
You must be at least 18 and possess a vehicle that qualifies for Postmates delivery, such as a car or scooter.
Postmates drivers receive 100% of their tips through the Postmates app.
Cash out your earnings anytime you like, or opt for weekly free deposits.
Postmates does not require you to pay any fees or make time commitments. All you have to do to get started is to download the app and log in whenever you wish to make money.
Read more: Doordash or Postamtes? Which one is better for drivers?
Shipt

Shipt employs shoppers to deliver orders from major retailers such as Kroger, CVS and Costco.
Shipt drivers can deliver to a variety stores. However, most orders are grocery-related so it is helpful to have a good knowledge of fresh produce when shopping.
Shipt allows you to earn up to $22 an hour by delivering groceries, pharmacy products, office supplies, and other items.
Shipt customers also get a $99 worth Shipt membership, which allows them to receive home delivery at no additional cost. Shipt pays weekly and earnings can vary depending on where you live.
You must be at least 18 years old to shop for Shipt.
You will need an Android or iPhone that can run the Shipt app.
Read more: Shipt or Instacart? Which one is better to make money?
mazon Flex
Did you know you can use your vehicle to deliver fresh groceries and packages to Amazon customers?
Amazon Flex offers gig workers flexibility and the opportunity to earn up to $15-25 per hour.
Your pay can vary depending upon the delivery block you schedule. However, your earning potential will be greater if your vehicle can carry more packages and you can work longer shifts.
You will need to have a social security number in order to drive for Amazon Flex.
You must be able to pass a background screening. You will also need a smartphone.
Amazon Flex is unique because you can see exactly how much you'll earn before you accept a shift.
Caviar

Caviar was originally an app that delivered food to high-end restaurants. Now Caviar is part of DoorDash. It offers a variety of food, including donuts and fast food, and a range of ethnic options.
DoorDash employs Caviar drivers so the sign-up process is identical.
DoorDash technically employs Caviar couriers. When you sign up, you are taken through DoorDash's sign-up process. Drivers must be at least 18 years of age and have access to a car or scooter.
In some areas, a bike is allowed. Auto insurance, a driver's license number, and a social security number are required (uniquely for United States drivers) as well as passing a background check.
The pay can vary depending on the delivery area. It is comparable to DoorDash's compensation, which includes the base salary as well as tips or promotions. Drivers who deliver food during peak hours can make more. Additionally, there are challenges that can be offered to drivers such as completing specific delivery goals.
Saucey

Saucey drivers deliver alcohol and tobacco, which is a little different from other delivery services.
This service for on-demand delivery of alcohol and tobacco is currently only available in certain US cities.
Delivery is available to the following areas: Austin, Boston and Chicago, Dallas, Fresno (Inland Empire), Jacksonville, Los Angeles, Miami. New York City, Orange County. Orlando, Palm Springs. SF East Bay. Sacramento. San Diego. San Francisco. San Jose. Seattle. Silicon Valley. South Bay LA. Tampa. Washington DC. Saucey offers ground and 2-day shipping in California and New York.
Saucey requires that drivers be at least 21 years old and that they have a reliable vehicle that is older than 2007 models. You must have car insurance and a clean driving record.
Saucey's delivery drivers receive a flat rate for each delivery, a small amount for each item delivered, and their tips. This service is very proud of its customer service. They require their drivers to have an excellent rating. It can also be beneficial for them to have good people skills and friendliness.
Saucey delivers alcohol products and tobacco products. This service requires that drivers check customers' IDs before they deliver the goods. To ensure that customers are 21 years old or older, drivers use ID scanners.
goPuff

GoPuff is a delivery app that delivers convenience items such as groceries, cleaning supplies, electronics, and over-the-counter medications. GoPuff is available in more than 500 cities in the United States, with a strong presence in the Midwest & South. It offers many opportunities and is growing quickly.
This service is unique because customers order from goPuff warehouses and not stores. The items are picked up by drivers and delivered to the warehouses, not 3rd-party locations like other delivery services.
You must be at least 21 years old to drive for goPuff. An applicant must have a smartphone and be able pass a background check.
Although pay for goPuff drivers can vary by market, overall drivers get a commission on all orders and tips. The hourly minimum guarantee can vary depending on your location.
Delivery.com

Delivery.com is rapidly growing and is looking for drivers to join its ranks in many new markets. There are many opportunities for drivers to deliver more than groceries or take-out. They can also bring other items, such as wine and dry cleaning, right to customers' doors.
Delivery.com drivers need a reliable vehicle, valid driver's licence, proof of insurance, and proof that they have insurance. To use the app and accept gigs, you will also need a smartphone.
Delivery.com offers drivers a competitive base salary and 100% of their tips. Drivers have the freedom to work when it suits them best.
Delivering Apps: Making Money

You can make money if you own a car, have a clean driving record, and have a smartphone.
It's easy to earn money from your spare time by simply logging on to their apps and accepting gigs that pay in your free time. These gig worker services can be flexible and increase your income. The only limit to how much you can make is how many opportunities you accept.
DoorDash apps can make it easy to quickly make extra money, whether you're looking for cash for bills, saving for something special, or just need cash to pay your bills.
You have complete control over your earning potential and can work as many hours as you like. Register for multiple services to maximize your earnings and take advantage of all the job opportunities.
Do you want to find additional ways to make extra money? You can find more information on survey apps that pay, delivery apps and other quick ways to make money.
10 Top Apps Similar to DoorDash To Make Money In 2022 Dollarsanity